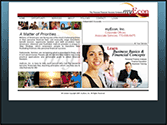 Project: Website / Web Application



Client: myEcon, Inc.



Feature Set: eCommerce via Secure Server; Merchant Services; Database-driven Reporting; End-User Login; Account Management; Client-Based Entry System / Communication Tools; Flash Visual Components; Online University; Online Audio Center, etc.



Client Comments: "Over the last three years we have had Tone Dog, Inc design and implement various web applications for our business. Tony has taken the time to understand our business. Because he understands our business he has given us valuable input on processes that would allow our customers web transactions to be seamless. Since we have contracted with Tone Dog, Inc to design our websites we have seen an increase in sales from customers all across the country."





Tone Dog Notes: This client required eCommerce on a scale that most won't require, in that they have a sophisticated autodraft billing cycle procedure which processes thousands of transactions per month. We were able to build a system that correlated directly to their desired e-business model quickly, allowing them to successfully transact online.



Ongoing support was a must for this client, due to the complex nature of their site. Tone Dog offers a myriad of support plans for every need. Inquire if interested.